A conference, a meeting or a simple presentation is a make or break event for your business. A strong impact on your audiences is important for the success of the event. A conference coordinator must be able to keep the audience engaged throughout the event and deliver the intended message. In order to leave a lasting impact and make sure that everyone enjoys the event fully, use of technology and being creative is imperative. Good audio-visual equipment rental can help you achieve your goal and make your business event a success.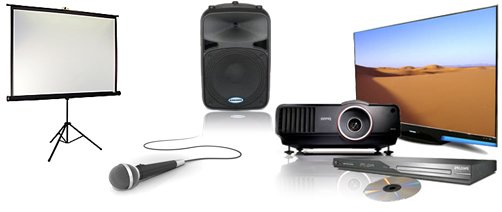 How Audio-Visual Equipment Rental Can Make Any Business Event a Success?
End-to-end service:

Success of the event depends on how well you planned and presented the event. Things can get difficult when making arrangements and dealing with several vendors for the big event. Not to forget, a great audio-visual setup will add life to the monotonous content and making sure the audience remains interested. For this purpose, working with a professional audio-visual equipment rental company is the best solution. These professionals provide end-to-end services at events.

State-of-the-art technology:

These audio-visual equipment rental companies are equipped with the most upgraded systems available in the market. Due to ever-evolving technological trends and competitive markets, it is crucial for these companies to provide their clients with upgraded machines. Imagine the impact the technologically advanced AV support can provide than an older one. A Hi resolution LED Video Wall Technology will create a better impression than a usual projector screen. These systems can help you make a visual impact and create an atmosphere of excitement with its avant-garde audio and lighting technology.
Knowledgeable and skilled staff:

As a conference coordinator, you have several other tasks to accomplish during your business event. Functioning of audio-visual setup is the last thing you need to worry about. Hence, an audio-visual equipment rental company is a convenient option. These companies not only offer the equipment but also have skilled professionals, who with their expertise, provide the tech support needed for the success of the event. With their experience and expertise, they can quickly rectify a technical glitch and provide a backup.

Just the right equipment:

Every event is different depending on its target audience, venue, goal, and scale of the event. Therefore, to accomplish the desired result, it is important to choose the right equipment. Whether you need 40" inch display or wide wall technology for a larger than life impact, these audio-visual equipment rental companies will help you decide and provide just the right equipment and services based on your needs.

Recording, live streaming and editing:

It is no doubt that hiring an audio-visual equipment rental can turn a simple event into a spectacular one. At the same time, these systems are equipped with a recording program. Full digital recording, quick feed, and live streaming are some other benefits of hiring audiovisual equipment. The recording can be used later for several purposes that can benefit your far-reaching audience and your business.
An audio-visual equipment rental is a good idea if you are planning a big event. With everything pre-planned, you can create magic at the occasion. Sumantra, an AV rental Dubai, has tons of experience and team of professionals that provide renting and maintenance services of such up-to-the-minute equipment. The professionals are skilled in providing just the right equipment for a hassle-free experience for a large scale or a small scale event.