The latest Apple iPad Pro has come up with some exciting features. Apple's new iPad Pro is an amazing tablet with the new 12.9-inch model. It has the largest display of any iPad. It is composed of a high-performance A12X Bionic chip and Face ID. It has a storage capacity of up to 1TB. Therefore, you will have sufficient space for all your projects. The presence of Liquid Retina display is edge-to-edge and has a variety of features to enhance color and sharpness on your iPad.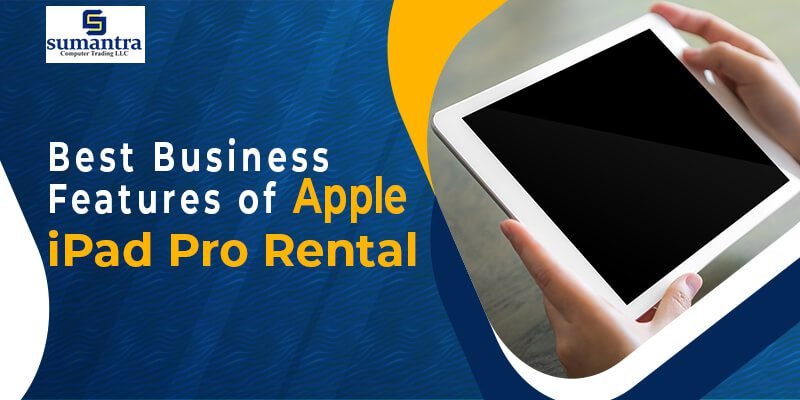 All these crucial features are packed into an excellent device of 25 percent less volume than the previous generations. These features will make your business more beneficial and productive.
But, the new Apple iPad Pro seems to be costly for small as well as medium-scale businesses. To resolve the high price issue, you can opt for an Apple Ipad pro rental.  The best thing about the iPad Rental is that you could get the upgraded version of the iPad at a cost-effective price. The latest iPad Pro is the thinnest iPad, and therefore it is easier to handle. Your business could be benefited from the reliable performance of the new iPad Pro which is designed to provide consistency and multiple functions.
Some of the best business features of Ipad rental in Dubai:-
Face ID and security
The latest version of the iPad comes with an interesting feature which is the Face ID. This gives you a safe and secure way to access your device without any hassle of using Touch ID or plugging in a password. Face ID will work in any type of orientation. With just a glance, it will allow you to open your device. It can also be used to enable Apple Pay or access to secure apps.
Battery life
Apple Ipad pro rental offers a 10-hour battery life. This is on par with the earlier version. Although, there isn't a major improvement in this area. However, it is still an impressive aspect of the new iPad.
Apple Pencil
Apple Pencil adds more productivity support to the latest iPad. It now seamlessly attaches to the iPad and allows for pairing and wireless charging. You may double-tap the pencil within the apps for the added interactive capability. It makes notetaking on iPad a feasible productivity tool.
Smart Keyboard Folio
Smart Keyboard Folio is sold independently from the iPad. It allows you to use your tablet like a laptop. The new version of the Smart Keyboard Folio is considered to be quite adjustable. Most of the earlier versions of the keyboard weren't adjustable. So, the iPad often ended up in one single upright position. The keyboard need not be paired or charged. It functions as a protective cover when not in use.
Summing up:-
The newest Apple Ipad pro rental has some striking business features such as enhanced battery life, crisp Liquid Retina display, better security, etc. Thus, it is a worthwhile product for business owners and entrepreneurs.
If you wish to opt for Ipad rental in Dubai, you may get in touch with Sumantra Computer Trading LLC. It is known to provide the best quality equipment at reasonable rates.