The iPads on rent has become one of the most pocket-friendly options for users who are thinking of working on a critical interim project, where the project delivery holds the maximum value. In various cases, the rental companies are now offering benefits of iPad rental services to their customers catering to their varied needs.
In fact, there are many users who use iPad on rent as it becomes particularly useful for them helping them reach their work-related goals, this contributes to more productive goals.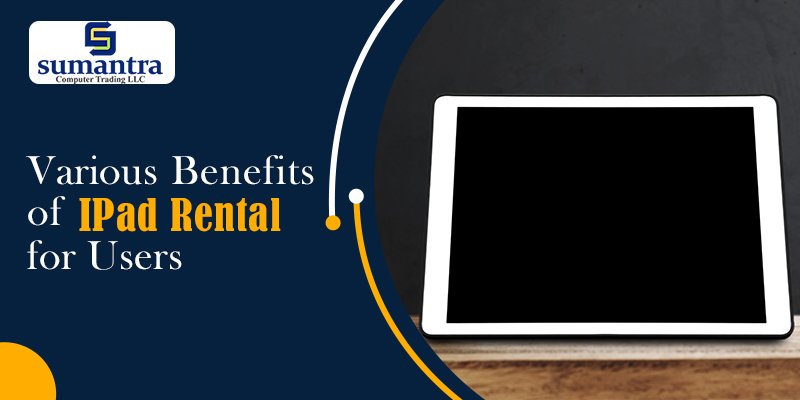 There are many rental companies that have particularly benefitted the small and medium scale enterprises (SME) segment.
In fact, these benefits of iPad rental are regarded as a boon for a number of sales executives in a company and are constantly on the move with reference to their meetings, product sales gatherings, trade conferences, meetings, trade shows and so on.
iPad Rentals – The Myriad Benefits
There is a good reason that most people want iPad rentals from Apple, the robust architecture and the easy-to-use multi-touch interface of the devices have something to do with it. No wonder, these super innovative devices are literally the backbone of many businesses, a number of creative industries, and education systems. It is largely because of the high brand value and dependable performance of these devices, iPads are in very high demand although the price sometimes can be regarded as exorbitantly high. Going by its high price it may not prove to be an economically viable option for us to buy one, especially if your requirement for the same is for an extremely short period.  In such cases, iPad rental in Dubai becomes a much more affordable and feasible option. Looking to try iPad rentals for the very first time? Don't worry we have got you covered, we have the reasons that can help you veer towards benefits of iPad rental in a more assured manner. Yes, that's right there are very few cons to this proposition and a lot of pros, let's discuss the same here.
Planning an event is never easy, you have to take into account a great many things and it requires every ounce of your acuity and business prowess to do the job. It is an extremely stressful job, as you have to adhere to strict deadlines and fulfill the diverse requirements of the group. Apple iPads or iPads of other companies is what helps you with efficient event planning and buying an iPad is what helps you to plan events better.  Instead, you can get on board by making use of iPad rental dealers in your locality and use state-of-the-art devices for a short time period or as long as you want. Businesses can rent as many tablets as they want and some of them even set up event kiosks to complete the registration process and enable fast check-ins.
It is a great choice for marketing managers who can make surveys and analyze various results of the various surveys on the go. Businesses can rent iPads to collect various feedback, opinions, and various observations. They can then form these minute details to look for findings of the other research and development team. With iPads, it is easily one marketing personnel to send surveys for the personal field.
iPads have certainly changed the way how people conduct business in the modern era. This is greatly inclusive of the way business meetings and conferences are held. iPads offer a number of useful features that are greatly helpful for businesses. It is greatly useful for increasing interaction, engagement, and is particularly helpful in starting off a meaningful communication. There are other benefits also, such as aiding guests to attend the business meetings even when they are not there physically, yes they can attend such meeting remotely. They can also conduct other jobs such as to cast votes, collect feedback and so on.
iPad rental in Dubai have always been a great option for numerous users who are working for an interim project, which does not require any iPads in place and these iPads are charged according to the time spent on the iPads. The customer can hugely benefit from these iPads as they can use the gadget for a week or a month according to the project requirement.
In fact, nowadays the technical support holds paramount importance and in this case, a customer can get iPad on rent as it comes with proper technical support, especially when you are traveling and you are in the midst of a technical glitch, prompt technical support can bail you out of this kind of situations.