Have you started out telecommuting for your current employer or venturing out on your own with a new business? In such a case, you require every item in your business to work in the best way possible to help your business flourish. Your photocopier is one of the most important tools in your office whether your office is small or otherwise. You must select the best copier rental or you can buy one that caters to your specific means.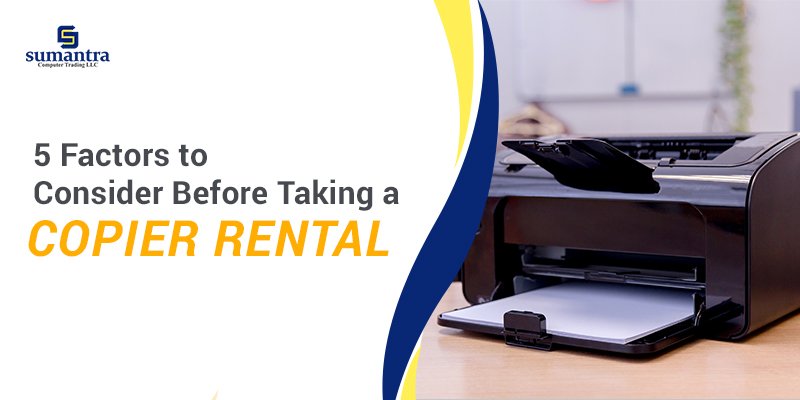 Choosing the right photocopier is an essential requirement to boost your productivity, and if you bungle and mismanage it could cost you money or time. If you are choosing the first printer for your new home office or exchanging your old one workhorse, there are a few factors you must consider so that you get your hands on the ideal copier printer rentals. 
5 Essential Points to Consider Before Taking a Copier Rental
Going for a Small Footprint
You have limited space in your home office, and you have to make the most of the limited space available. If you are looking for an inkjet printer or a laser, choose one with a reasonably small footprint.
The more the capacity of the laser, the more room you will need, so size is a very important factor to consider. A high-capacity laser printer takes more room than basic inkjet one. If you are ordering online go through the specifications very carefully and ensure that the unit will fit where you need it the most.
Wireless Connectivity is another factor to consider
Choose a printer with wireless capabilities and it can certainly make your life easier. When you choose a wireless printer, you can set up your home office print station at any place you want, on the furthest side of the room.
Also, a wireless printer is less bulky and more portable and it frees up more space to fit in the other essentials that make your office. Wireless printers have become more affordable now and whether you choose to buy it or rent it, it is exactly what you need in your home office.
A hard-working and multifunctional machine
Obviously, you want to replace your first photocopier with a multifunctional one as there are plenty of reasons to choose a multifunctional one over other machines. You can pack in a lot of things together right from printing, copying, scanning, and faxing all in one device, especially when you purchase a business photocopier.
It is a great way of freeing up your office space to make way for other devices and give you ample places to work. The copier with the scanner helps you save your receipts and other important paperwork, providing you with good value for money.
Dependability of a good copier
You require a photocopier which you need every day. Whether it is for a business owner or a telecommuter, you cannot risk the option of running out of a photocopier, especially when you're not-so-reliable photocopier runs out of steam and breaks down. When you are choosing a photocopier, whether you are buying one or going for copier rental you need to comb through the reviews carefully. You need to pick and choose the right printers as some of the ones available in the market are highly unreliable. Before you select one, it always makes sense to do a thorough market study as it will help you save time and money and give you a completely hassle-free experience.
Rent to save money
So, should you choose a printer lease in Dubai or buy a copier? It all comes down to the one fact, how much money you are willing to spend over a period of time. Leasing is beneficial for many as you have to pay a monthly fee over the term. This is a good option for businesses that are just venturing out and may not have a great amount of money to invest. In such a case renting a copier or leasing a copier is a great option.
Your photocopier is one of the most essential hardware in your home office, and it goes without saying that you must do the selection process with a lot of care. Select the printer with the maximum number of features and help you seal the best deal.