A good sound system is literally the soul of any event. A sizeable gathering needs to have a state-of-the-art sound system to make the point of the event reaches the audience via a credible sound system. Thankfully, nowadays there is a variety of sound systems according to the count of the crowd. More the crowd, the more potent the sound system. There are different types of events, businesses, and personal or purely for entertainment purposes. While there are large sound systems catering to a large audience, they are rather expensive so one can even go for sound system rentals in Dubai, the features, size and power according to the size of the audience, everything else according to your choice. Various events use the sound system for many different purposes, not only business events, but personal events too. A sound system comes in particularly useful for entertainment purposes as it magnifies the effect on the audience. We know that the large size sound systems are way too expensive to fit into our budgets, so it is better to opt for renting than buying.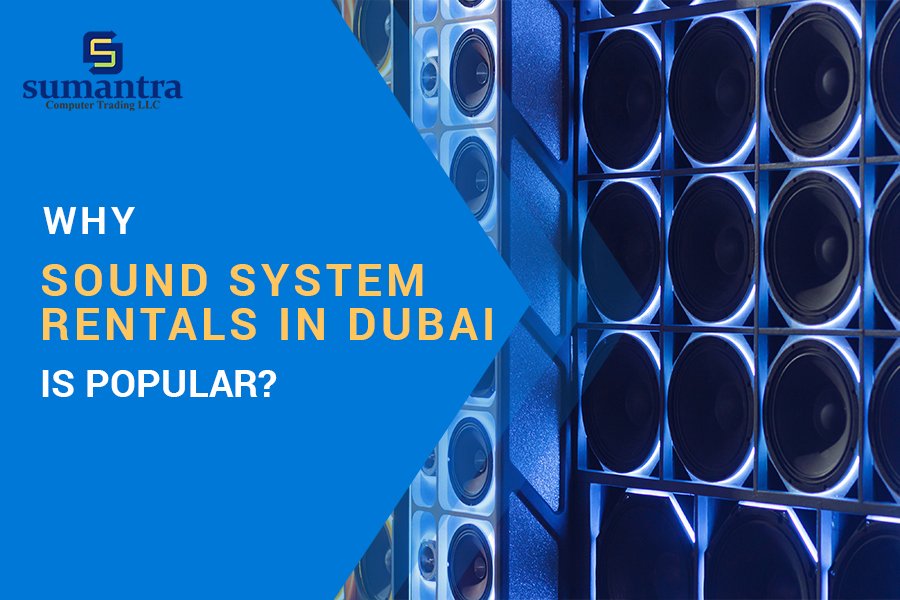 There are many people who opt for sound system rentals in Dubai for different events. If you are wondering whether you should invest a lot of money by purchasing a sound system rental, hold that thought because we will tell you how you can entertain the audience and make your event a resounding success.
Top Reasons Why you Can opt for Sound System Rentals
Connection with the audience:
If you have to hold the attention of a large crowd, then you must get your hands on the best-sounding equipment; this can help connect with every person in the room or ground. This will help cater to every guest and they will remain hooked from the beginning to the end of the event. But ensure you only have quality sound systems on board.
Increased audience interaction:
Event managers opt for the best sound system rentals just to ensure they build up a conducive atmosphere for the audience to interact. Ensure you get a good line mixer and a technologically advanced supportive line array to whet the interest of a discerning audience.
No question of Errors:
The only way you can avoid sudden disruptions and sound and video glitches is by hiring the best sound rental system in Dubai. A powerful sound system has a far-reaching impact on the audience. Get a powerful audio system and get ready to mesmerize the audience.
Professional Assistance at your Disposal:
You require specific sound systems for a number of events, the system is complex, and you require professional assistance to achieve a level of professionalism. When you rent the best sound system for a specific event, you hardly have to worry about the entire complicated installation; the professional staff will come to the venue of your event and carry out the entire process in a proper way that means fewer chances of goof-ups.
A budget-friendly choice:
Hosting an event is not cheap by any standards, you have to keep in mind a number of things and of course, you would want to find ways to reduce the overall expenditure of the event.  Renting is a great way to fit in according to your budgetary constraints. Let's get this straight, buying a high-end sound system can dig deep holes in your pocket and by the time you are on to your next event, there are better options available in the market, complete with brand new state-of-the-art features. So, is it worth investing so much money in a product that you can easily rent?
Introducing a Systematic Approach
A service provider company helps install the sound system at your event and they with their experience and expertise can set off the installation and operation process at the venue. So, most people choose to rent an advanced sound system for business or personal events because they get their money's worth.
Think before you invest there are some great sound system rental providers in the market who are willing to go the extra mile to meet your individualistic demands, all the advantages in very little money, a complete win-win situation to be in!