In the current scenario, it seems that LED technology has revolutionized the entertainment industry. As a matter of fact, the Outdoor LED screen rental is gaining popularity. This is because of the brightening effect, the ambiance and long-range visibility.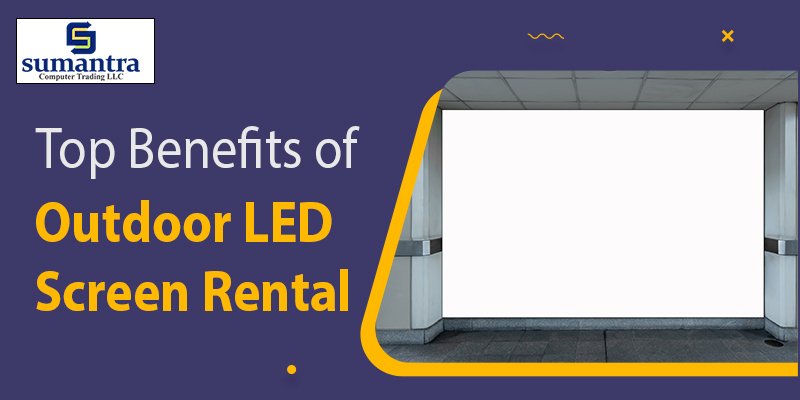 Additionally, these outdoor LED screens are crystal clear. This is what makes it easy for people to read and view both from a distance and a close range. In case, you are planning to hold a function or an event, you may consider hiring LED screen rental. And, if you are wondering why you should consider outdoor LED screen rental UAE for entertainment, then you must check out the top benefits of Outdoor LED Screen Rental mentioned in the article below.
For Extreme Brightness
As we all know that LED screens showcase brightness that can be visible no matter the distance. It usually generates an excessive and high-quality brightness. This is the major factor that makes them very clear for the viewers. The amount of light in the LED screens is perfect for displaying vivid images to your audience during the event or an advertisement to promote your event, or highlight a function.
Offers Great Convenience
Arranging for or organizing an event involves many factors and elements. This is the reason why most event planners usually prefer using materials and tools that don't require so much effort to set up. A high-quality LED screen hire will display high-definition images and sound that your audience and guests will surely enjoy unlike other outdoor event displays. LED screens are composed of highly innovative technology. Also, it can withstand harsh and rough weather conditions. All of these essential features make it an extremely convenient feature to have for your big or small events.
Trustworthy Outdoor Features
Distinct from other types of typical screens, the popular outdoor LED screen is exceptionally durable and long-lasting. Usually, it doesn't require much of maintenance. Also, it can withstand even harsh climatic conditions. The LED screen rental UAE can provide you with the highest-quality LED screen that you can use for your outdoor events. It definitely adds some much-needed visual factor and would appeal to your audience a lot more.
Available at Lower Rates
The LED screen hire is ideal for event organizers who might have a small budget to hold an outstanding function. The outdoor LED displays are easy to set up. This means that you need not dig deeper into your pockets to hire an expert to set or install the LED screens. Additionally, their brightness and clear visibility indicate that you may not need many monitors to meet the requirements of your audience.
The outdoor LED screens are also energy efficient. This suggests that your energy bills will not go overboard.
Now, the question arises from where you can rent outdoor LED Screen Rental? There are various outdoor LED screen rental service providers. For example, Sumantra Computer Trading. We have brought together a considerable amount of expertise in LED TV rental services. We are known to deliver the equipment on time. Also, install it in a way that you enjoy your program to the best degree.
Here, you can select from a wide range of brands, resolutions, sizes, and other features. Hence, this gives you a choice to go for LED TV rentals that will give you an excellent viewing experience. There is no limitation in the choices of equipment, you name it and we will provide it for you and that too at a reasonable price.
So, if you wish to have the best experience with LED TV Rentals in Dubai, and want to have a winning edge over your competitors, you must get in touch with Sumantra.